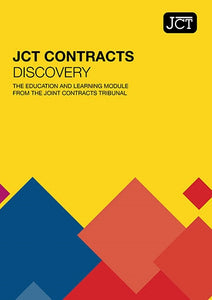 JCT Contracts Discovery has been substantially updated and revised for 2018, providing an improved and more in-depth tool for those in construction education.

JCT Contracts Discovery is designed for education and training providers, in-house training teams and independent tutors. It is also useful for students studying contractual matters as part of their construction-related course as a reference guide.

Delivered in hard-copy format, the module provides the materials that students need to gain a comprehensive understanding of JCT contracts and JCT contractual procedures.

The module sets new standards for construction contract education, improving the understanding of contract use and assisting the development of the construction professionals of the future. It supplements a student's knowledge of JCT contracts and helps to explain their use in context. It can be used alongside the study of specific contract documents to offer a deeper level of understanding.

This revised publication of JCT Contracts Discovery goes further by giving a more detailed description and explanation of the changes made as a result of the publication of the JCT 2016 Edition of contracts, and provides analysis of the JCT Standard Building Contract and JCT Design and Build Contract in particular.

The module is organised so that each section covers a key area of the construction process impacted by JCT's range of documents.

JCT Contracts Discovery:


explains the major elements of the JCT suite of contracts
goes through how JCT contracts are set up and implemented
looks at the various roles of individuals including contractors, employers, sub-contractors and contract administrators within the contract process
discusses how JCT provisions deal with administrative matters, such as payment, control of the works, and control of time.
JCT Contracts Discovery is designed to be flexible to a variety of teaching and learning needs. It can be used as a standalone module on JCT contracts or it can be incorporated into the existing structure of a construction-related course.

Reference to public procurement in this document may be affected by Brexit. Click here for the related article.

Chapters included


Introduction to JCT Contracts Discovery
Procurement and the contract
Contractor selection and tendering
JCT standard forms of main contract and ancillary agreements, contract documents and design responsibility
Setting up the contract
Housekeeping issues in JCT contracts
Carrying out the works
Control of the works
Sub-contractors
Time
Payment
Variations
Liability and Insurance
Forms of security documentation – Bonds,Guarantees, Third Party Rights and Collateral Warranties
Termination
Introduction to dispute resolution
Publisher: Sweet & Maxwell Ltd

Format: Paperback
ISBN: 9780414066304
Publication Date: June 2018