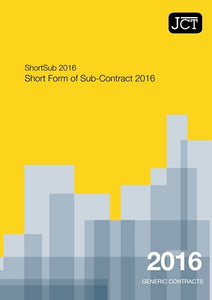 THIS CONTRACT IS FOR USE BASED ON ENGLISH LAW, FOR SCOTLAND SEE SBCC CONTRACTS.

JCT Short Form of Subcontract 2016
The Short Form of Sub-Contract is for use where a JCT contract is the main contract, and for small-scale sub-contract works that are simple, straightforward and include low risk.
It can be used when either the main contract works or the sub-contract works are to be carried out in sections.
It can be be used for sub-contract works that are to be carried out on the basis of an adjusted sub-contract sum (adjustment for variations etc.) or by complete remeasurement.
It is not suitable if the sub-contracted works are of a complex or specialist nature, or if the sub-contractor is required to carry out any design.
Not suitable where provisions which are fully back to back with the main contract are required.
It contains the Guidance Notes.
Appropriate:
For use where the main contract is a JCT contract
For a small sub-contract package of work or one that is of straightforward content with low risk involved
Can be used:
Where the sub-contract works and/or main contract works are to be carried out in sections
For sub-contract works that are to be carried out on the basis of an adjusted sub-contract sum (adjustment for variations etc.) or by complete re-measurement
Not suitable:
Where the sub-contract works are of a complex technical nature
Where the Sub-Contractor is to design any part of the sub-contract works, even though the other criteria are met
Where provisions which are fully back to back with the main contract are required
Publisher: Sweet & Maxwell Ltd

Format: Paperback
ISBN: 9780414054608
Short Code: JCT ShortSub/2016
Publication Date: June 2016
Additional Links and Downloads