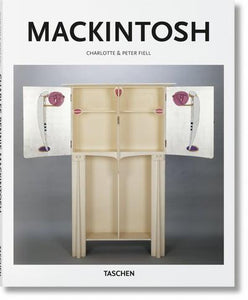 Scottish architect, designer, and painter Charles Rennie Mackintosh (1868-1928) was one of the earliest pioneers of modern architecture and design. While he did not receive much recognition in his hometown of Glasgow during his lifetime, his bold new blend of simplicity and poetic detail inspired modernists across Europe.
Mackintosh's avant-garde approach embraced a variety of media as well as fresh stylistic devices. His multi-faceted oeuvre incorporated architecture, furniture, graphic design, landscapes, and flower studies. He embraced strong lines, elegant proportions, and natural motifs, combining an adventurous dose of japonisme with a modernist sensibility for function. He preferred bold black typography, restrained shapes, and tall, generous windows suffusing rooms with light.
Much of his work was collaborative practice with his wife, fellow artist Margaret Macdonald. The couple made up half of the loose Glasgow collective known as "The Four"; the other two were Margaret's sister, Frances, and her husband, Herbert MacNair. On the continent, the "Glasgow Style" was met with delight. In Italy, Germany, and, in particular, Austria, artists of the Viennese Secession and Art Nouveau drew much from its rectilinear yet lyrical forms.
In this introductory book, we take in Mackintosh's practice across art, architecture, and design to explore his particular combination of the statuesque and sensual and its vital influence on modernist expression across Europe. Featured projects include his complete scheme for the Willow Tea Rooms and the Mackintosh Building at the Glasgow School of Art, widely considered Mackintosh's masterwork.

About the series
Each book in TASCHEN s Basic Architecture series features:
an introduction to the life and work of the architect

the major works in chronological order

information about the clients, architectural preconditions as well as construction problems and resolutions

a list of all the selected works and a map indicating the locations of the best and most famous buildings

approximately 120 illustrations (photographs, sketches, drafts and plans)
Author: Charlotte Fiell and Peter Fiell
Publisher: Taschen
Format Hardback
Pages: 95
ISBN: 9783836561600
Publication Date: February 2017