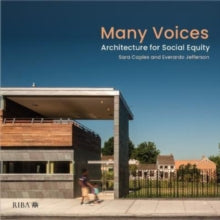 Do you know how to create beautiful buildings that truly promotesocial change? Architects need to understand how to design for social equity, buttoo often this is presented as a choice between work that does good andwork that looks good. When done well, building for social equity candirectly enhance the formal, experimental and creative language ofarchitecture. Renowned architectsSara Caples and Everardo Jefferson, who have been designing for underserved multi-culturalcommunities in New York for decades, provide thought leadership that is deeply rootedin practice.
By urging architects to approach equity projects with an open mind, the volume highlights the need to dig deep into the diverse culture of local neighbourhoods. It provides techniques to encourage listening, communicating and fully engaging with users, resulting in imaginative design responses that draw on all the tools that the architect possesses. Packed with interviews from established and up-and-coming designers, and highly illustrated case studies from all over the world, this accessibly written book serves both as a point of inspiration and a challenge to Western-centric ways of working.
Ultimately, it explores how listening to the aspirations of diverse communities enriches designs and broadens the architectural language of all involved. Featuring:- International case studies from Austria, Brazil, Bolivia, China, Egypt, India, USA and many more- Interviews from leading designers, including: Tatiana Bilbao, Wanda Dalla Costa, Andres Lepik, Xu Tiantian, Li Xiaodong, Sara Zewde- Guidance on a range of topics, from integrating narratives to working with colour, communicating with communities and stakeholders to ethical practice.
Author: Sara Caples & Everardo Jefferson 
Publisher: RIBA Publishing

Format: Paperback

Pages: 192

ISBN: 9781914124327

Publication Date: October 2022