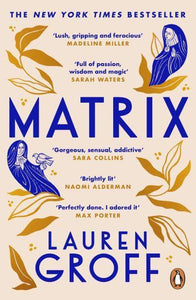 Born from a long line of female warriors and crusaders, yet too coarse, too wild, too rough-hewn for courtly life, Marie de France is cast from the royal court. Woefully, she is sent to the muddy fields of Angleterre to take up her new duty as the prioress of an impoverished abbey.

The abbey is a dreadful place: its inhabitants are on the brink of starvation, beset by disease, stoic and stern, yet plagued with an unholy tendency to gossip. Marie cannot help but pine for the decadence and comfort of France; her secret lover Cecily, her queen Eleanor, and the very court that had spited her.

Yet Marie soon realises that, though she may be tied to a life of duty, she wields more power than she could have imagined. With the fearlessness that has always set her apart, she inspires her new sisterhood to awaken their spirits and finally claim what is theirs.

A dazzling work of literature, Matrix gathers currents of violence, sensuality and ecstasy in a mesmerising portrait of consuming passion and womanhood.

Editor: Lauren Groff
Publisher: Penguin Books
Format: Paperback
Pages: 260
ISBN: 9781529157864
Publication Date: July 2022