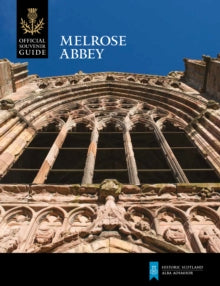 St Aidan of Lindisfarne established a monastery at 'Mailros' in the 7th century - a place of solitude and contemplation in the Border hills. Five centuries later, Cistercian monks settled nearby and built Melrose Abbey, inspired by the legacy of the early saints. Their austere and simple monastery would grow to become one of the wealthiest abbeys in medieval Scotland.

Its magnificent buildings bear witness to almost 1,000 years of work, prayer and worship. Today, Melrose Abbey sits in a busy town. Within a radius of just a few miles lie the ruins of the three other great Border abbeys - Kelso, Jedburgh and Dryburgh.

Together they form the greatest concentration of medieval religious houses in Scotland.
Author:  Historic Scotland
Publisher: Historic Environment Scotland
Format: Paperback
Pages: 48
ISBN: 9781849172288
Publication Date: March 2023