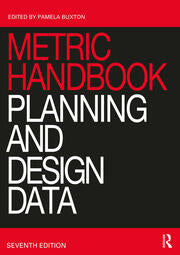 Recommended to Students of Architecture
The Metric Handbook is the major handbook of planning and design data for architects and architecture students and is the ideal starting point for any project, with chapters covering all the principal building types.
This latest 7th edition has been updated to include new building types and reflect changes to construction standards and practice. There is an increased recognition of the importance of good ventilation, light and access to external space. The chapter on Primary Health explores the changes to how GPs operate their practices and many more chapters have extensively updated including fire safety, which sets out the still-evolving requirements following the Grenfell Tower disaster. There is another new chapter on retail, a sector also undergoing great change.
For each type the book gives the basic design requirements and all the principal dimensional data, as well as succinct guidance on how to use the information and what regulations the designer may need to be aware of. It also considers broader aspects of design such as materials, acoustics and lighting, and general design data on human dimensions and space requirements.
The Metric Handbook is a unique authoritative reference for solving everyday planning problems. It has sold well over 100,000 copies worldwide to successive generations of architects and designers – this is a book that truly belongs on every design office desk and drawing board.
Author: Pamela Buxton (editor)
Publisher: Routledge 
Format: Paperback
Pages: 906
ISBN: 9780367511395
Publication Date: November 2021