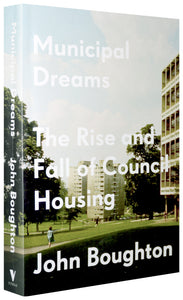 A narrative history of council housing—from slums to the Grenfell Tower

Urgent, timely and compelling, Municipal Dreams brilliantly brings the national story of housing to life.

In this landmark reappraisal of council housing, historian John Boughton presents an alternative history of Britain. Traversing the nation, he offers an architectural tour of some of the best and most remarkable of our housing estates, and in doing so offers an engrossing social history of housing in Britain. John Broughton's account includes extraordinary planners and architects who wished to elevate working men and women through design. The politicians who shaped their work and the competing ideologies that have promoted state housing and condemned it. The economics that have always constrained our housing ideals. As well as the crisis wrought by Right to Buy, and the evolving controversies around regeneration. Boughton shows how the loss of the dream of good housing for all is a danger for the whole of society—as was seen most catastrophically in the fire at Grenfell Tower.
Author: John Boughton

Publisher: Verso

Format: Paperback

Pages: 336
ISBN: 9781784787400

Publication Date: April 2019