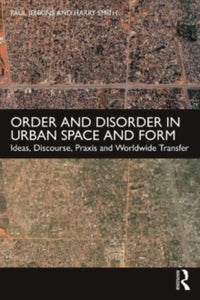 The global application of Enlightenment-derived concepts to create social order through urban form suggests that we believe we know how to create a (future) ordered environment. But these notions of order and disorder need interrogation, especially as the world rapidly urbanises.
Not only have such approaches failed to produce more social order, but it has become clear that the imposition of these ideas in cities of the South cuts across alternative systems of social and cultural order and creates new disorder. Thus, if we are serious about forms of urban order, then it is time to rethink what we mean by order in the fi rst place. As this provocative and timely book shows, what we think of as urban order is partial and restricted, and what we perceive as disorder usually masks underlying orders of social nature.
The book is intended for architects, urban designers, planners and urban scholars, as well as urban policymakers, managers and residents, to consider a different approach to emerging urban space and form, starting from an understanding of the cultural imaginaries and social constructs that underpin the production of most urban fabric and engaging with these concepts and organisational forms to improve urban life for the majority.
Authors: Paul Jenkins & Harry Smith
Publisher: Routledge
Format: Paperback
Pages: 246
ISBN: 9780415586931
Publication Date: September 2023