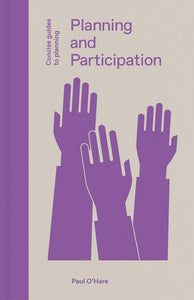 Written with the practitioner in mind and including topical case studies including High Speed 2, flood defences, green belts and community mapping, this book provides a clear and useful guide to participatory planning approaches
Why should the public participate in planning? And who are the stakeholders who are required to participate in the planning process? This guide assesses public and stakeholder participation in the planning process, which is a statutory requirement across the entire scope and scale of planning activities in many global contexts. It provides a historical overview of participation and outlines how this has evolved over time. It then outlines a series of key issues for the contemporary planning professional in terms of their approach to public and stakeholder participation, particularly in light of alterations in landscapes of governance and recent social, political and technological developments.

Illustrated with mostly UK and European case studies, but also drawing insights from further afield, the book also provides a framework for critiquing contemporary participation, including an assessment of the pitfalls, obstacles and unintended consequences of participation efforts. As such, it identifies key principles for participation and asks critical questions for its assessment.
Paul O'Hare is a Senior Lecturer at Manchester Metropolitan University. He conducts research on community engagement with urban resilience, and in local governance and decision-making. His current research is with flood action groups and planning protest groups across Greater Manchester and beyond.
Author: Paul O'Hare
Publisher: Lund Humphries Publishers Ltd
Format: Hardback
Pages: 160
ISBN: 9781848224278
Publication Date: September 2021