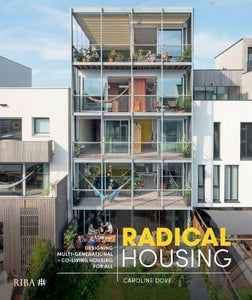 An essential design guide for architects and others interested in innovative housing typologies.
Radical Housing explores the planning, technical, financial, health-based and social background for developing multi-generational homes and co-living. Abundantly illustrated with case studies and plans from projects across the UK and abroad, this book aims to inform and inspire the delivery of alternative approaches to affordable and flexible housing, and is an essential text for architecture practitioners, students, and community groups.
Offers inspiration and innovative ideas for customer-led housing and deliverable solutions from the UK and abroad.
Practical focus, particularly around deliverability, giving readers an understanding of the planning and legislative framework, and helping them to negotiating a speedier path through the process of obtaining consents
Demonstrates how alternative housing models can help to deliver the number of affordable homes needed, exploring finance and land availability.
Offers a sustainable vision of the future, since new homes must be flexible and adaptable over time so they can meet the changing needs of families and communities.
Outlines the social benefits to society beyond the provision of homes for those in need and demonstrates through case studies that it is also important to establish supportive, caring and stimulating environments for people to thrive.  
Author: Caroline Dove

Publisher: RIBA Publishing

Format: Hardback

Pages: 176
ISBN: 9781859468913

Publication Date: May 2020