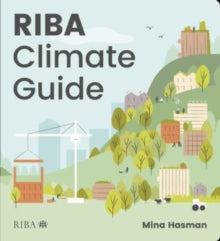 Climate change is a threat to humankind, which requires immediate action. The built environment has a vital role to play in responding to the climate and biodiversity emergencies. There is a pressing need for architects and industry professionals to acquire the requisite skills and knowledge to design buildings that deliver holistic sustainable outcomes, meeting the RIBA 2030 Climate Challenge and mandatory competence in climate literacy.

Equipping you with the key information that built environment professionals require to halt climate change and mitigate its impacts in your day-to-day work, this book is organised around six overarching topics: Human Factors; Circular Economy; Energy and Carbon; Water; Ecology and Biodiversity; Connectivity and Transport. Featuring images and original illustrations, each themed section will guide you through fundamental elements and competencies for creating an integrated sustainable design and delivery framework that can be implemented by you in your practice. Contextualising the climate emergency within the built environment landscape, the book maps out the essential background knowledge around climate science, international agreements, legislations, commitments and roadmaps. It explores shared themes of retrofit, disaster risk resilience and climate justice, among others.

A collection of short, building- and urban-scale case studies present key takeaways, illustrating real-life applications of design strategies and industry-wide tools, as well as standards that are deployed in climate-conscious built environments all around the world.
Author: Mina Hasman 
Publisher: RIBA Publishing

Format: Paperback

Pages: 280

ISBN: 9781914124471

Publication Date: April 2023