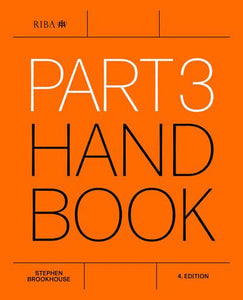 The Part 3 Handbook is the only book of its kind – an approved RIBA guide to taking Part 3, with support on all the essential components including the Professional Experience and Development Record, the written examination, the case study and the oral examination. It also outlines the Part 3 criteria, professional registration and CPD.
Written by an experienced practitioner and Professional Studies Advisor, the book demystifies the whole process of qualifying, dispelling commonly held myths and offering genuine insight into what examiners really want.
Fully updated for 2020, this edition features a brand new chapter on professional development and includes up-to-date guidance on the RIBA 2020 Plan of Work.
'The Part 3 Handbook is an invaluable guide to studying your Part 3 and transitioning from the conceptual world of Part 2 to the world of practice and delivering buildings. It gives you the tools for life-long learning and thinking, critical in today's fast-changing profession. Global practice is addressed for the first time in the context of Part 3, with guidance on designing and delivering international projects and studying whilst abroad. Concise and to the point, The Part 3 Handbook will take the edge off your study stresses, help you in your day job and set you up for a successful career.' – Justin Nicholls, Fathom Architects

Author: Stephen Brookhouse
Publisher: RIBA Publishing
Format: Paperback
Pages: 264
ISBN: 9781859469521
Publication Date: November 2020