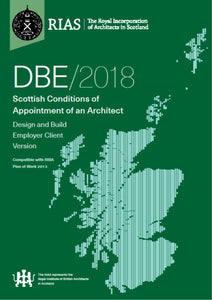 This form should only be used for appointment of the Architect by the client/developer on Design and Build projects. The primary service, although not exclusively, will be the preparation of the Employers requirements. The DBE/2018 is compatible with the RIBA Plan of Work 2013 and compliant with the CDM Regulations 2015.
The RIAS recommends the use of a standard form of agreement in the interests of both client and architect. The form helps ensure that the key aspects of the services to be provided and the responsibilities of each party are agreed at the beginning of a project, while allowing the agreement to be tailored to meet the specific requirements of each appointment.
The architectural profession is regulated by the Architects Registration Board (ARB) and, as a further commitment to consumer protection, the RIAS Code of Professional Conduct is aligned with that of the ARB. Architects are subject to the disciplinary sanction of the Board in relation to complaints of unacceptable professional conduct or serious professional incompetence.
Publisher: RIAS Publishing
Format: Paperback

ISBN: X5991718

Short Code: DBE/2018
Publication Date: January 2018