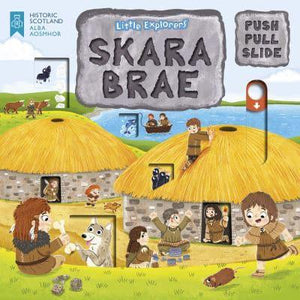 Discover the secrets of the Stone Age and travel back in time to see what life was like for the villagers of Skara Brae on Orkney.

This book introduces little explorers to Neolithic life through Scotland's most famous prehistoric village. Moving parts let them catch a fish for dinner, cook over an open fire, travel through tunnels to visit friends, raise a standing stone at Stenness, and even uncover the village thousands of years later!

Published in partnership with Historic Environment Scotland, custodians of Skara Brae, the bright and exciting illustrations are packed full of historical detail helping young children to learn as they play.

An ideal gift for visitors to Scotland, this large board book is chunky but lightweight with sturdy moving parts that are just the right size for little hands.
Author: Louise Forshaw (artist), Historic Scotland (associated with work)
Publisher: Floris Books
Format: Board book
Pages: 12
ISBN: 9781782506324
Publication Date: March 2020