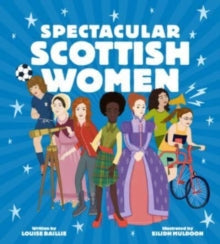 Meet some of Scotland's most spectacular women in this inspiring collection of biographies written for young people. From authors to athletes, scientists to singers, queens to campaigners, this diverse collection of women have influenced the world in incredible ways. Read the eye-opening life stories of many amazing Scottish women you know, and many you won't believe you hadn't heard of:
Feel the rhythm with ground-breaking deaf percussionist Evelyn Glennie -- Rock the runway with model Eunice Olumide -- Command the country with iconic monarch Mary, Queen of Scots -- Pen a literary gem with poet and author Jackie Kay -- Campaign for change with schoolgirl activist Roza Salih -- Step on set with actor Karen Gillan -- Race to the finish line with para-athlete Kayleigh Haggo -- Discover a new planet with scientist Mary Somerville.
Scottish author and former journalist Louise Baillie presents empowering stories of persistence, achievement, ingenuity and innovation while bestselling Scottish illustrator Eilidh Muldoon captures the essence of each extraordinary woman with her vibrant and dynamic illustrations.

This fascinating and uplifting celebration of iconic women from Scotland's past and present is essential reading for children aged seven and up and a perfect gift for the spectacular Scots of the future.
Author: Louise Baillie, Eilidh Muldoon (illustrator)
Publisher: Floris Books
Format: Hardback
Pages: 144
ISBN: 9781782508649
Publication Date: August 2023