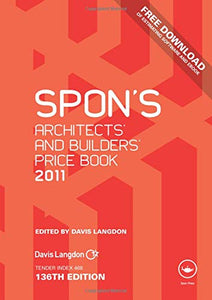 With tender prices rising slightly, looking at price lists is not enough – you need SPON'S ARCHITECTS' AND BUILDERS' PRICE BOOK 2011 to get a competitive edge.
SPON'S ARCHITECTS' AND BUILDERS' PRICE BOOK, compiled by Davis Langdon, provides the most accurate, detailed and professionally relevant construction price information currently available for the UK. Its unique Tender Index, updated through the year, provides an ongoing reality check and adjustment for changing market conditions. This is the only price book which sets out a detailed cost base for major works contracts exceeding £3,500,000 in value, as well as minor works.
Major changes have been made to this 136th edition:
Overheads and profits have been kept low and in line with actual levels. Preliminaries have also been dropped to 11%, on a lower cost base. And labour rates have been adjusted to reflect today's fragile market.
As well as an overhaul of prices,  Spon's Architects' and Builders' Price Book 2011includes:
new Measured Works items including bio diverse roofs; Clayboard void formers; fire resisting glass blocks; UPVC window options (coloured, Secured by Design); glazing (curve cutting, drill holes); insulating panels (Kooltherm, Thermafloor, Thermaline); more internal door options; blister tactile paving; Metsec SFS framing; Ecosil paint
new Approximate Estimating items: lift pits; Corium brick tiles; solar hot water; photovoltaic cells; and polished plaster
extra elemental building cost models on land remediation; school refurbishment; and office refurbishment.
Buyers of this 2011 edition can make a free internet download of SPON'S ARCHITECTS' AND BUILDERS' price data, which will run to the end of 2011 and:
Access Spon's new Approximate Estimates rate data, as well as the Measured Works data
Produce estimate and tender documents
Generate priced or unpriced schedules
Adjust rates and data and enter rogue items
Export schedules into Excel
Carry out an index search.
This year, for the first time, the resources include a versatile and powerful ebook.
Author: Davis Langdon
Publisher: Taylor & Francis
Format: Paperback
Pages: 1,168
ISBN: 9780415588454
Publication Date: August 2010