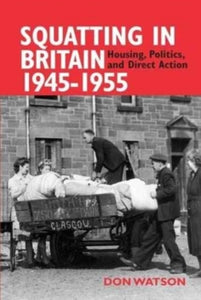 Britain in 1946 witnessed extraordinary episodes of direct action. Tens of thousands of families walked into empty army camps and took them over as places to live. A nationwide squatters' movement was born and it was the first challenge to the 1945 Labour government to come 'from below'.
The book examines how these squatters built communities and campaigned for improvements; how local and national government reacted; the spread of squatting to empty mansions and hotels, and the roles of political activists. Further, it discusses what these events reveal about the attitude of the 1945 government to popular initiatives. This book describes how those most affected by inadequate housing conditions and shortages responded to them and how their actions helped to shape policies and events.
It examines and records something summed up in the recollection of one of the organisers of the London hotel squats of 1946: "...The thing I'll never forget is that if I'd ever had doubts about the problems of working people taking on and managing their own affairs, I lost them forever during this squatting thing. 
Because without any hassle, fuss, argument, they found what they could do, and collectively decided that it should be done, and then went off and did it."
Author: Don Watson 
Publisher: The Merlin Press

Format: Paperback

Pages: 264

ISBN: 9780850367287

Publication Date: December 2016