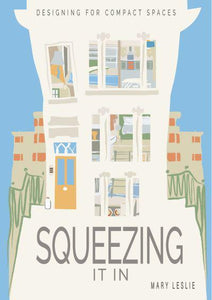 Our living spaces are getting smaller but, as we spend more time at home, they must now work harder than ever to provide us with room to relax, work and entertain. Interior designers need to understand how to build accessibility, circulation, storage and lighting into the most restricted areas, without compromising on style.
In this jargon-free guide, Mary Leslie demonstrates how to design for compact living, proposing creative solutions that can be applied to a variety of settings. A versatile designer may be addressing a cramped studio flat one day and a dressing room for an international business traveller the next; this book provides inspiration and advice for every kind of small space, and every budget.
Organised around the different areas of the home, Squeezing It In examines familiar problems and offers clever, immediately applicable ideas for making the best of pocket-sized spaces. The entire design process is considered alongside complete examples, from the UK and internationally, which are generously illustrated with full-colour photographs, plans and sketches.
Featuring case studies from:
Archio
Armstrong Keyworth
Benjamin Tindall Architects
Darren Oldfield Architects
Jeffreys Interiors
Mary Arnold-Forster Architects
MW Architects
Peden & Pringle
Plankbridge
Author: Mary Leslie
Publisher: RIBA Publishing
Format: Hardback
Pages: 176
ISBN: 9781859469132
Publication Date: January 2022