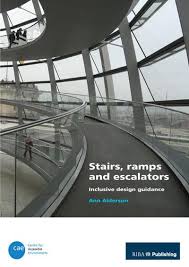 This practical handbook published in conjunction with the Centre for Accessible Environments (CAE) sets out the design and specification principles of steps, stairs, ramps, escalators and moving walks for inclusive environments. These critically important building elements are connected to a large number of accidents and can present significant barriers to access.
Designed to be 'dipped into', the handbook outlines the background legislation, regulations and associated best practice guidance. It explains how good practice can mitigate hazards and improve accessibility. Sections on design issues and technical implementation are supported by illustrations and case studies that demonstrate solutions for different situations. Where particular building types have unique requirements covered by separate guidelines, these are highlighted. A final section considers the operational and maintenance issues that need to be addressed.
Concise and clearly explained, Stairs, Ramps and Escalators brings together a wide range of current research for easy reference. It is an indispensable resource for designers, specifiers, building owners and occupiers, building managers and facilities managers and anyone involved in designing and maintaining an inclusive built environment.
Author: Ann Alderson
Publisher: RIBA Publishing 
Format: Paperback
Pages: 120
ISBN: 9781859463659
Publication Date: April 2010