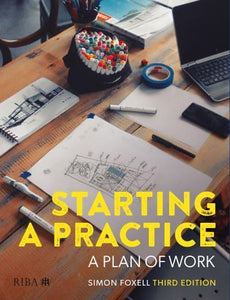 Running your own practice can bring immense job satisfaction, but it is not without its risks. Do you have all the information at hand to set up confidently on your own?
Comprehensive, accessible and easy to use, Starting a Practice helps architects navigate the pitfalls associated with establishing a successful business.
This fully updated 3rd edition is mapped to the RIBA Plan of Work 2020 and approaches starting a business as if it were a design project, complete with briefing, sketching layouts and delivery. It features new material on professionalism and ethics, sustainable development and achieving a net-zero carbon emission built environment.
Invaluable for Part 3 students, early practitioners and those considering setting up from scratch or wanting to consolidate an existing business, Starting a Practice gives architects the tools they need to thrive when setting out alone.
Features essential guidance on:
Preparing a business plan
Choosing the right company structure
Setting aspirations
Monitoring finances
Getting noticed
Securing work
Retaining and developing staff
Planning for disaster.
Author: Simon Foxell
Publisher: RIBA Publishing
Format: Paperback
Pages: 224
ISBN: 9781859469880
Publication Date: September 2021