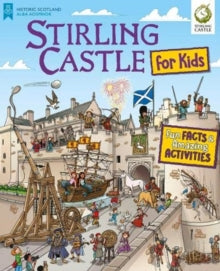 Explore Scotland's most famous castle -- home to kings and queens, the site of historic battles, and probably the best-known place in Scotland.

Published in partnership with history experts at Edinburgh Castle and Historic Environment Scotland, this fun, fact-packed book includes everything you need to know about the castle's 1000-year history:
-- Its most famous residents and treasures
-- Who attacked the castle, and who tried to defend it
-- Its dank dungeons and the prisoners who tried to escape
-- The terrible battles and incredible sieges
-- The secrets and the mysteries

Conveying fascinating facts through simple words and loads of historically accurate illustrations, Edinburgh Castle for Kids will appeal to a wide age range of young visitors from all over the world.

Each section includes a fun activity -- mazes, doodling and colouring, spot the difference, untangle, search and find and join the dots.

With a mix of brilliant facts and enjoyable activities, Edinburgh Castle for Kids is the ultimate guide for kids to Scotland's most famous landmark -- whether you've visited or not!
Author: Moreno Chiacchiera (artist), Historic Environment Scotland
Publisher: Floris Books
Format: Paperback
Pages: 40
ISBN: 9781782507116
Publication Date: February 2022