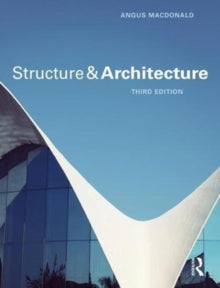 Recommended to Students of Architecture
This thoroughly updated edition of Angus J. Macdonald's insightful book Structure and Architecture offers an in depth analysis of structural design and its relationship with architecture. It draws on clear explanations of the connections between structural form, structural performance and architectural design to explore the interface between the technical and the visual in architecture.

Additional chapters in this new edition cover the fields of structural theory, structural philosophy, the contributions of prominent engineers to the evolution of Modern architecture, and the concept and practice of sustainable design. Fully illustrated, this critical appraisal of structures is a core-curriculum text for students of architecture, structural engineering and architectural history, and is also a valuable resource for practitioners of these disciplines.
Author: Angus J Macdonald
Publisher: Routledge 
Format: Paperback
Pages: 360
ISBN: 9781138629240
Publication Date: November 2018