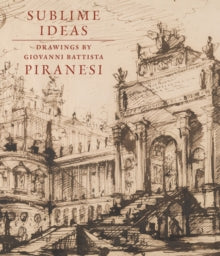 This beautiful publication accompanies an exhibition at the Morgan Library & Museum of the work of Giovanni Battista Piranesi (1720-1778). It is the most important study of Piranesi's drawings to appear in more than a generation. In a letter written near the end of his life, Giovanni Battista Piranesi explained to his sister that he had lived away from his native Venice because he could find no patronsthere willing to support "the sublimity of my ideas." He resided instead in Rome, where he became internationally famous working as a printmaker, designer, architect, archaeologist, theorist, dealer, and polemicist.

While Piranesi's lasting fame is based above all on his etchings, he was also an intense, accomplished, and versatile draftsman, and much of his work was first developed in vigorous drawings. The Morgan Library & Museum holds what is arguably the largest and most important collection of these works, more than 100 drawings that include early architectural caprices, studies for prints, measured design drawings, sketches for a range of decorative objects, a variety of figural drawings, and views of Rome and Pompeii. These works form the core of the book, which will be published on the occasion of the Morgan's Spring 2023 exhibition of Piranesi drawings.

More than merely an exhibition catalogue or a study of the Morgan's Piranesi holdings, however, this publication is a monograph that offers a complete survey of Piranesi's work as a draftsman. It includes discussion of Piranesi's drawings in public and private collections worldwide, with particular attention paid to the large surviving groups of drawings in New York, Berlin, Hamburg, and London; it also puts the large newly discovered cache of Piranesi material in Karlsruhe in context. The most comprehensive study of Piranesi's drawings to appear in more than a generation, the book includes more than 200 illustrations, and while focused on the drawings it offers insights on Piranesi's print publications, his church of Santa Maria del Priorato, and his work as a designer and dealer.
Author: John Marciari 
Publisher: The Morgen Library & Museum
Format: Hardback
Pages: 224
ISBN: 9781913645380
Publication Date: February 2023