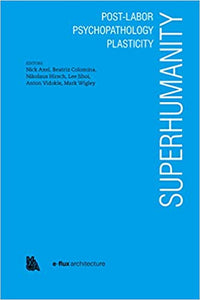 Focused on post-labor, psychopathology, and plasticity of human mind and body, this book introduces insight, critiques, and propositions in the area of "self-design," ranging from design and architecture to science, media, history, philosophy, and contemporary art.
The field of design has radically expanded. As a practice, design is no longer limited to the world of material objects, but rather extends from carefully crafted individual looks and online identities, to the surrounding galaxies of personal devices, new materials, interfaces, networks, systems, infrastructures, data, chemicals, organisms, and genetic codes.
Faced with the fourth industrial revolution, this book shed light on the necessity to recognize that manmade, artificial objects are continuously reshaping our daily lives, and thus to rethink the intimate and fundamental relationship between design and what it means to be human.
Museum of Modern and Contemporary Art in Seoul, Korea, MMCA, organized the Superhumanity Symposium in Korea, consisting of lectures and panel discussions by experts from diverse disciplines.
With contributions by Chin Jungkown, Common Accounts (Igor Bragado & Miles Gertler), Arisa Ema, Hong Sungook, Yuk Hui, Kim Jaehee, Catherine Malabou, Hannah Proctor, Erik Rietveld, Mark Wasiuta
Author: Nick Axel and Beatrice Colomina (Editors)
Publisher: Actar Publishers
Format: Paperback
Pages: 150
ISBN: 9781945150968
Publication Date: July 2018