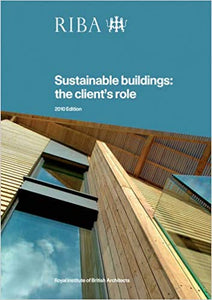 Prepared by the RIBA, this straightforward guide is for clients wishing to build a sustainable building. It will help them to make the best use of available professional advice and knowledge and to communicate your vision to the design team. Along the way, it outlines why sustainability matters in building projects, how it can serve clients' wider objectives and, most importantly, their vital role in achieving it.
Regardless of how experienced the client is or what kind of sustainable building is being built - a refurbishment, a major remodelling or a new build - the principles set out here will help to get the project off on the right footing and see it through to a building that meets the brief.
Structured in two main parts, Section 1 explains what you need to understand about current legislation and targets that affect your project. Section 2 alerts you to what you need to think about at each stage.
Author: Joanna Eley
Publisher: RIBA Publishing 
Format: Paperback
Pages: 40
ISBN: 9781859463666
Publication Date: April 2011