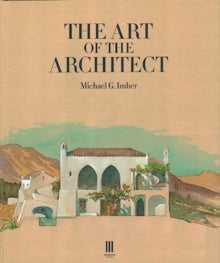 The Art of the Architect celebrates the role that drawing and watercolour painting play in architecture. Architectural drawing as we know it dates from the Renaissance, but with the arrival of computer design programmes this ancient art - formed of pen, pencil, and brushstrokes on paper - is sometimes regarded as obsolete. The work of Michael G.

Imber, whose watercolours and sketches are published here for the first time, shows what a vital contribution they can still make at every stage of an architectural project. His personal example is followed by his colleagues in a visual culture that permeates his practice, Michael G. Imber, Architects.

Whatever the place occupied by photographs, simulations, and visual graphics in the design process of today, hand drawing still facilitates a moment of deeper connection between an architect and his environment. Unlike a snap taken on a smart phone, a hand drawing is an active response to its subject: what is understood about a place in sensory terms cannot help but inform the finished design, creating buildings which maintain the balance between the way we live and the natural world around us. Not only do Michael's sketches allow him to visualize his environment more clearly, but they provide an immediate visual language with which he can communicate with his team, his craftsmen, and his clients.
Author: Michael G. Imber
Publisher: Triglyph Books Ltd
Format: Hardback
Pages: 304
ISBN: 9781916355491
Publication date: September 2023