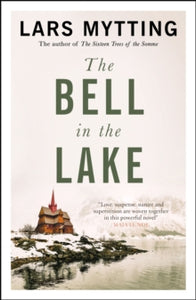 Winter is hard in Butangen, a village secluded at the end of a valley. The lake has frozen, and for months the ground is too hard to bury the dead. Astrid Hekne dreams of a life beyond all this, beyond marriage, children, and working the land to the end of her days.
Then Pastor Kai Schweigaard takes over the small parish, with its 700-year-old stave church carved with pagan deities. The two bells in the tower were forged by Astrid's forefather in the sixteenth century, in memory of conjoined twins Halfrid and Gunhild Hekne. They are said to hold supernatural powers. The villagers are wary of the pastor and his resolve to do away with their centuries-old traditions, though Astrid also finds herself drawn to him.

And then a stranger arrives from Dresden, with grand plans for the church itself. For headstrong Astrid this may be a provocation too far. Talented architecture student Gerhard Schoenauer is an improbable figure in this rugged community. Astrid has never met anyone like him; he seems so different, so sensitive. She finds that she must make a choice: for her homeland and the pastor, or for an uncertain future in Germany. Then the bells begin to ring.

Author: Lars Mytting, Deborah Dawkin (translator)  
Publisher: Quercus Publishing
Format: Paperback
Pages: 400
ISBN: 9780857059390
Publication Date: October 2020