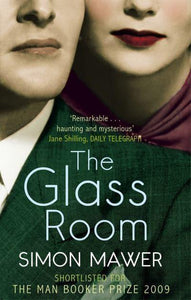 SHORTLISTED FOR THE BOOKER PRIZE

The inspiration for the major motion picture The Affair, now available on demand.

Cool. Balanced. Modern. The precisions of science, the wild variance of lust, the catharsis of confession and the fear of failure - these are things that happen in the Glass Room.

High on a Czechoslovak hill, the Landauer House shines as a wonder of steel and glass and onyx built specially for newlyweds Viktor and Liesel Landauer, a Jew married to a gentile. But the radiant honesty of 1930 that the house, with its unique Glass Room, seems to engender quickly tarnishes as the storm clouds of WW2 gather, and eventually the family must flee, accompanied by Viktor's lover and her child.

But the house's story is far from over, and as it passes from hand to hand, from Czech to Russian, both the best and the worst of the history of Eastern Europe becomes somehow embodied and perhaps emboldened within the beautiful and austere surfaces and planes so carefully designed, until events become full-circle.
Author: Simon Mawer
Publisher: Little Brown Book Group
Format: Paperback
Pages: 405
ISBN: 9780349121321
Publication Date: April 2010