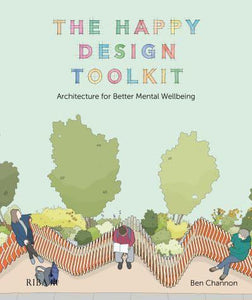 If you were to design a building that prioritises occupants' happiness, what would it look like? How would the materials, form and layout support healthy ways of living and working?
Delving into the evidenced-based research on architecture and mental wellbeing, The Happy Design Toolkit helps you to create happier places. It explores how factors, such as lighting, comfort, control over our environments and access to nature, exercise and social interaction, can impact how we feel. Easy-to-understand tips include bringing nature into your developments with roof gardens and living facades and countering social isolation with communal areas that encourage chance interaction. Each of the featured architectural interventions includes an analysis of the wellbeing benefits as well as the potential limitations or associated challenges.
From sparking joy in individual homes and workplaces to encouraging healthier lifestyles through landscaping and urban design, this book demonstrates how wellbeing concepts can be integrated across a range of scales and typologies. Packed with inspiration and advice, The Happy Design Toolkit will breathe new life into your projects and help you create a happier and more inclusive built environment for everyone.
Features real-world examples including Marmalade Lane co-housing by Mole Architects, Francis Holland School by BDP, Maggie's Centre Oldham by dRMM Architects, Kings Crescent Estate by Karakusevic Carson Architects and Happy Street by Yinka Ilori.
Over 100 hand-drawn illustrations of design details and elevations.
Essential reading for architects, interior designers, landscape architects and students.
Author: Ben Channon
Publisher: RIBA Publishing
Format: Hardback
Pages: 232
ISBN: 9781859469866
Publication Date: March 2022