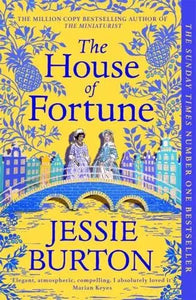 A woman must make her own fate . . .

1705, Amsterdam. Thea Brandt is about to turn eighteen, and at the theatre in the heart of the city she has met the love of her life. At home, the Brandt family faces ruin, and Thea's aunt Nella is convinced the only solution is to find Thea a wealthy husband. As Thea and Nella clash over the demands of duty and the heart, past secrets begin to overwhelm their present. Will each woman be able to rescue her destiny from the whims of fortune?

Returning to the resplendent world of Jessie Burton's million-copy bestseller The Miniaturist, The House of Fortune is a story of love, fate, and two women determined to make their own way.


Author: Jessie Burton
Publisher: Pan Macmillan
Format: Paperback
Pages: 401
ISBN: 9781509886104
Publication Date: July 2023