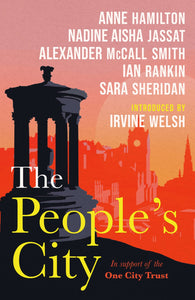 '[an] exploration of Scotland's past through the eyes of a scholarly hiker ... Magnificent' - New Statesman, Books of the Year
Fourteen centuries ago, Irish saints journeyed to the Hebrides and Scotland's Atlantic shore. They sought spiritual solitude in remote places, but their mission was also to spread the word of God to the peoples of Scotland. Columba was the most famous of these pioneers who rowed their curraghs towards danger and uncertainty in a pagan land, but the many others are now largely forgotten.
Alistair Moffat sets off in search of these elusive figures. As he follows in their footsteps, he finds their traces not so much in tangible remains as in the spirit and memory of the places that lay at the very edge of their world. 
Author: Introduction by Irvine Welsh / Written by Nadine Aisha Jassat , Anne Hamilton , Alexander McCall Smith , Ian Rankin , Sara Sheridan
Publisher: Birlinn Ltd
Format: Paperback
Pages: 224
ISBN: 9781846976018
Publication Date: January 2022