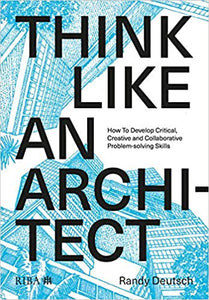 Do you know how to think like an architect? Do you know why you should? How do you make sure that you have the critical thinking tools necessary to prosper in your academic and professional career? This book gives you the answers.
Architects have a valuable and critical set of multiple thinking types that they develop throughout the design process. In this book, Randy Deutsch shows readers how to access those thinking types and use them outside pure design thinking - showing how they can both solve problems but also identify the problems that need solving. To think the way the best architects do.

With a clear, driving narrative, peppered with anecdote, stories and real-life scenarios, this book will future-proof the architectural student and emerging professional. Change is coming in the architecture profession, and this is a much-needed exploration of the critical thinking skills that architects have in abundance, but that are not taught well enough within architecture schools. These skills are crucial in being able to respond agilely to a future that nobody is quite sure of.
Author: Randy Deutsch
Publisher: RIBA Publishing
Format: Paperback
Pages: 296
ISBN: 9781859469316
Publication Date: November 2020