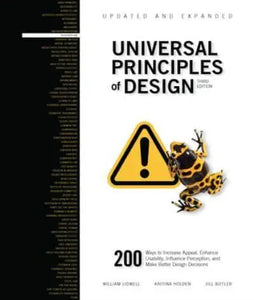 Universal Principles of Design, Updated and Expanded Third Edition is a comprehensive, cross-disciplinary encyclopedia, now with fully updated existing entries and expanded with 75 new entries to present a total of 200 laws, guidelines, and considerations that are important to successful design.
Richly illustrated and easy to navigate, this essential design guide pairs clear explanations of every design concept with visual examples of the ideas applied in practice.
Whether a marketing campaign or a museum exhibit, a video game or a complex control system, the design we see is the culmination of many concepts and practices brought together from a variety of disciplines. Because no one can be an expert on everything, designers have always had to scramble to find the information and know-how required to make a design work-until now.
Each principle is presented in a two-page format. The left-hand page contains a succinct definition and a full description of the principle, examples of and guidelines for its use, and side notes that provide elaborations and references. The right-hand page contains visual examples and related graphics to support a deeper understanding of the principle.
The book is organized alphabetically so that principles can be easily and quickly referenced by name. From the Abbe Principle to the Zeigarnick Effect, every major design concept is defined and illustrated, including these new additions:
Feature creep
Gamification
Root cause
Social trap
Supernormal stimulus

A landmark reference for designers, engineers, architects, and students, Universal Principles of Design has become the standard for anyone seeking to broaden and improve their design expertise, explore brainstorming ideas, and improve the quality of their design work.
Authors: William Lidwell, Kritina Holden & Jill Butler
Publisher: Rockport Publishers
Format: Flexiback
Pages: 424
ISBN: 9780760375167
Publication Date: May 2023