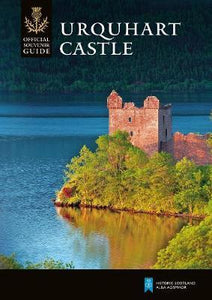 From its vantage point overlooking Loch Ness, Urquhart Castle dominated the region for centuries. The probable site of a Pictish hill-fort, it may have been the scene for St Columba's reported encounter with a Pictish chief in the 6th century.

Around 1230, the Durward family was granted the lordship of Urquhart, and soon built the first castle. Over the next three centuries it was repeatedly remodelled, soon becoming a royal residence. But its strategic position meant it was frequently under attack. Both Edward I of England and Robert the Bruce ravaged it during the Wars of Independence; the MacDonald Islesmen were frequent raiders in the 1400s and 1500s; and the Jacobites laid siege during the Rising of 1689-90.

It stands today as a gaunt but handsome ruin in the heart of the Highlands.
Author:  Kirsty Owen
Publisher: Historic Environment Scotland
Format: Paperback
Pages: 48
ISBN: 9781849170918
Publication Date: July 2020